Back to Blogs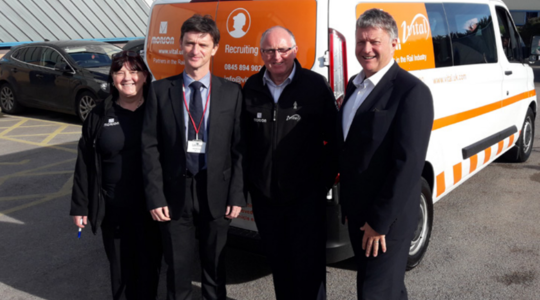 Vital interventions: Driving fleet safety and protecting lives on track
​
We take a look at how our Trespass and Vandalism Patrollers help to monitor some of the busiest mainlines and most vulnerable locations, delivering potentially life-saving interventions.

On the road, our Fleet department and external clients, together with South Yorkshire Safer Roads Partnership, hold a 'Driving at Work Consequences' awareness day.
Our Trespass and Vandalism Patrollers, working alongside train operators and the British Transport Police (BTP), monitor some of Network Rail's busiest mainlines and most vulnerable locations by delivering potentially life-saving interventions.
​Some recent examples include concerns of a suicidal female at Northallerton Station. On patrol was Dalton Qualter and Rob Ralph who were approached by a female on Platform 2 asking when the next train would be coming through that didn't stop. Together with a member of the public, Dalton prevented the female from jumping onto the tracks whilst Rob raised the alarm with the BTP. Eventually, the pair got the female into shelter, yet she attempted to run towards the platform edge as each train approached. The female had signs of mental illness, but together, Dalton and Rob were able to distract her and prevent any incidents before the BTP arrived.
Commenting on the incident, inspector Richard Price of the BTP, said: "I'm pleased to hear that the Vital Patrollers have again intervened and acted in a positive manner when alerted to a distressed female at Northallerton station.

"It appears that quick thinking and positive actions may have prevented a serious incident and protected a vulnerable female who was putting herself in a dangerous position. This is an excellent example of the good work that our Patrollers are performing."
At Croxdale Viaduct in Durham, Vital Patrollers Neil Miley and Gary Coulter arrived to find a female sat in the cess and were able to negotiate her to a place of safety so that she could receive the help she needed. This ending could have been dramatically different as the female in question had intended to end her life that day and was, in fact, a high-risk missing person that the Police were currently searching for via their Helicopter Air Support Team.
We also want to say a special congratulations to Jack Dawson, who was awarded the Vital's Health and Safety Department Award. Jack's controlled and decisive handling of an incident in which a member of the public appeared to be contemplating suicide, having been extremely intoxicated and distressed, helped to save the man's life. As soon as the individual accessed the track, Jack intervened, calling the Police whilst maintaining a protective watch over the person concerned. Jack's handling of the situation, which could have had potentially irreversible consequences, was voted the unanimous winner by his colleagues, who praised Jack's professionalism and care that extended beyond his immediate scope of duties.

Driving fleet safety
Part of our Silver Safety Campaign, our Fleet department and external clients, together with South Yorkshire Safer Roads Partnership, held a 'Driving at Work Consequences' awareness day.
The interactive session included the importance of vehicle pre-use checks, understanding the consequences and impact of road traffic collisions and information on drink and drug driving.
A virtual reality video also put them in the passenger seat of a vehicle involved in an incident to showcase how they're dealt with and responded to by the Emergency Services. Following the video, the session then discussed the aftermath and legal consequences, including acting out court and prison scene scenarios.
The purpose of the virtual reality video was to showcase the effects of the accident not only on the driver, but other parties involved, including family members. It also highlighted how all corners of the business have a responsibility to work in unison to deliver a robust safety culture and that all fleet policies and procedures are adhered to.
The feedback was hugely positive, and we plan on running further Driving at Work Consequences days later this year.